Let's face it. Having to buy a lunch box for a guy could really start to suck. It's worse than having to buy shoes for women! Seriously! Believe it or not, men are very self-conscious and the last thing they need are their work buddies busting their balls during lunch break. Men want to be the ones busting, not getting busted. Getting the right lunch box for men doesn't have to be such a struggle. Let's tackle the important features and then the style which any guy would be happy to sport!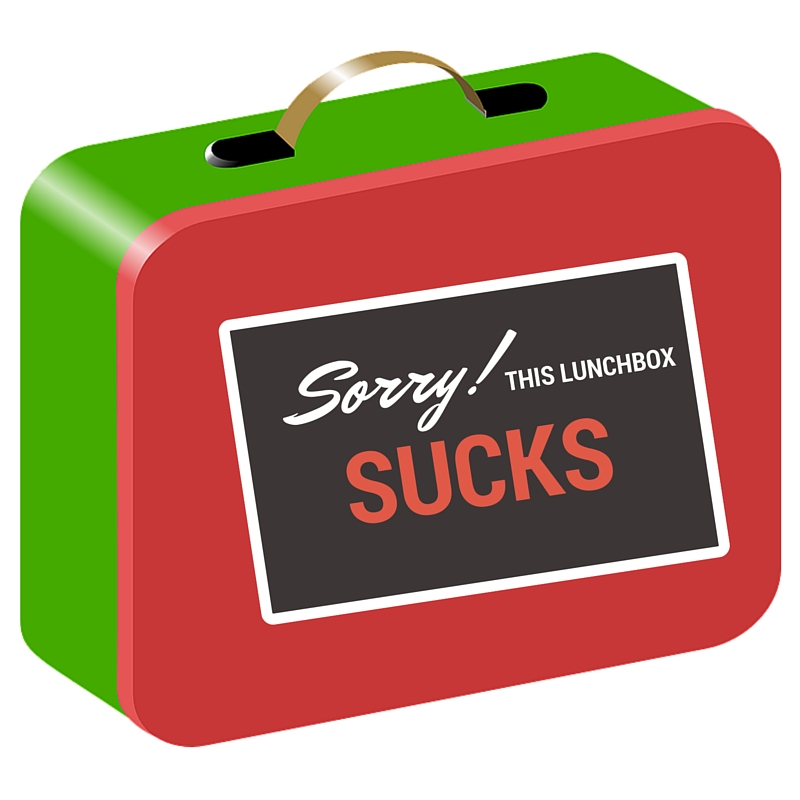 When searching for a lunch box for men, there are certain things we need to keep in mind. First and foremost, we're men. (insert eye roll here). We're simple. And I don't mean that in a bad way. In fact, I kinda like it! We don't look to deep into things. Very straight forward thinkers. Do-ers for the most part. Not spending so much time thinking about the details.
"Is it functional?"
That's question #1 we need to answer.

Question #2 is,
"Will it make me look wimpy?"
Ha! Am I right? Guys just don't want to look like anything other than "just a guy." If we have to carry something that's going to have other men questioning us, we just ain't havin' it!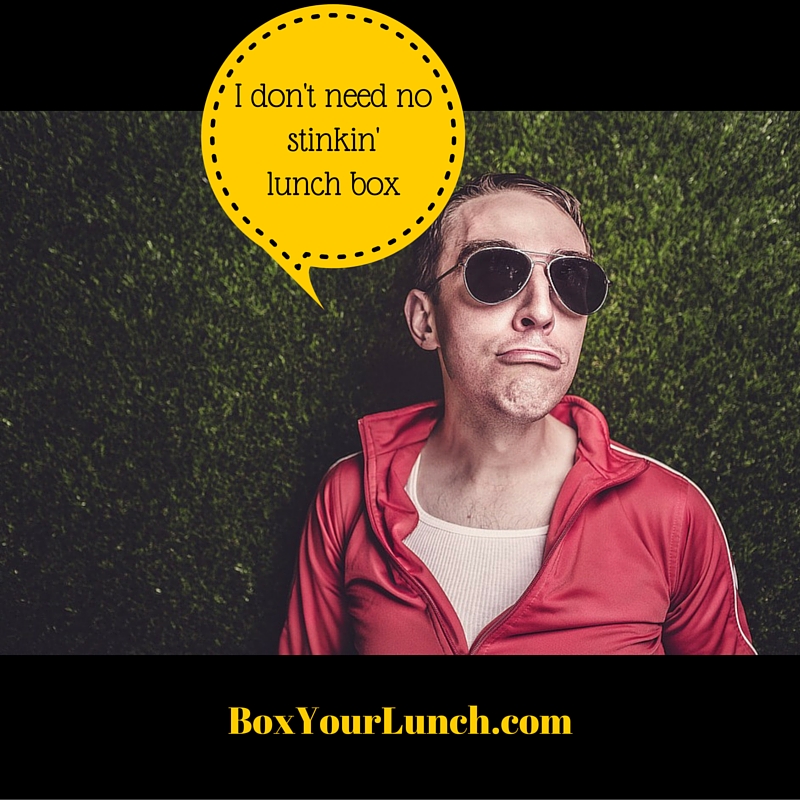 The Functions Of A Lunch Box
OK, there are several reasons we're buying a lunch box. One reason is to save some of our hard-earned cash. We all know how expensive it starts to get when we eat out every day for lunch.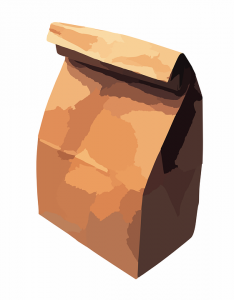 Another reason is to keep our food neatly stored as opposed to the old brown bag days.
For those of you too young to remember, we'd pack our lunch in a brown bag. Most of it got squished, and if ever we got caught in the rain, the bag ended up getting wet and disintegrating right in our hands.
The functionality of the brown paper bag was to last long enough to get us to lunch time. Waiting was a warm sandwich with warm mayo and a warm drink to wash all the warmness down. Fantastic.
(I see another eye-roll coming)
But today the functions have stepped up their games. We want our food in one piece and we want our drinks cold and our mayo fresh. All the while, without being made fun of for carrying a wuss lunch box. So we're looking for 3 things now.

Durability

Something That Will Keep Food Fresh

Something Cool / Hip or Inconspicuous 
So, Vicki and I looked at a lot of boxes and bags for men's lunch. We took a trip to a couple stores and then into our Mall to take a look at some good looking man boxes! We touched, opened, tugged and pulled at em. We took note of the ones I really liked and felt were durable.
We then got home and went to Google and searched these lunch boxes and bags we had found earlier, to find some reviews from different sources.
Finally, according to hundreds of reviews we went through, we junked the boxes that didn't meet our durability standards and other factors such as keeping food cold, ease of cleaning, etc.
The list below is what we came up with after gathering our own information along with online reviews from across the web. We think any man would be proud using any one of these lunch boxes. All of them are man tough, wife approved!
---
Lunch Box For Men With Different Lifestyles
The Stanley Heritage Cooler/Bottle Combo
If you're looking for a lunch box for men in construction, this is the go-to box. Durable enough to hold up on any job site and plenty of room inside to hold your food. The cooler will keep your food cold all day while the bottle keeps cold or warm for 24 hours. The inside is compartmentalized keeping foods/drinks separate and from bouncing around.
Locking handle holds Stanley Classic 1.1qt Bottle in place

Vacuum insulated thermos bottle keeps drinks hot 24 hours, cold 24 hours or iced 120 hours

18/8 stainless steel won't rust-naturally BPA free

Leak proof and fully packable

Lifetime Warranty



---
Fit & Fresh Men's Big Phil Lunch Bag with Containers
We really liked this one for construction use as well, as I personally know roofers and drywall hangers who have this bag. Although it could definitly be used for something other than for construction sites. The point is, it will stand up to a lot of wear and tear. The containers it comes with are stackable within each other. Oh, and did we mention it's insulated? It's a great bag and only a man would carry something like this.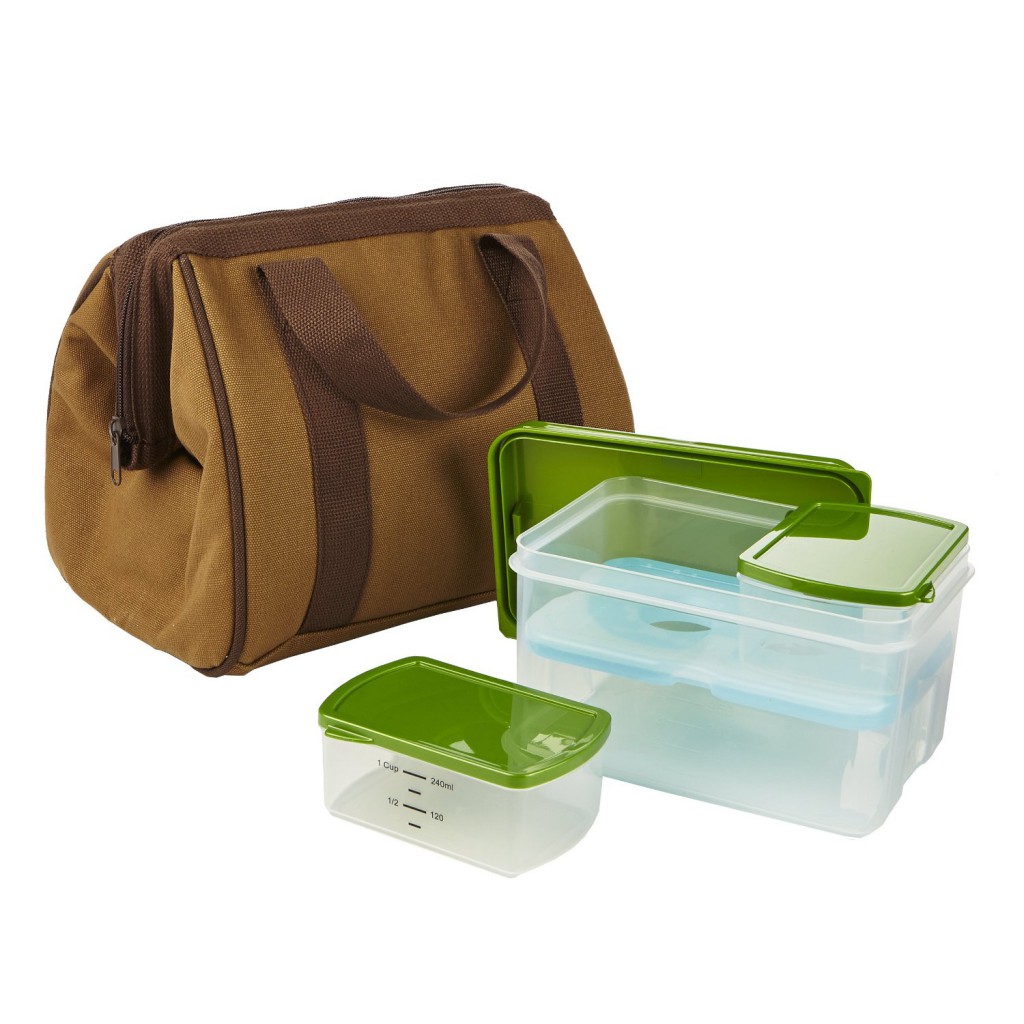 Men's lunch bag kit with Lunch on the Go Container Set with ice pack

Bag measures 10.5″ wide by 7″ deep and 9.5″ tall

Thick insulation keeps food cool and fresh and gray PEVA lining is easy to clean and PVC free

(2) 1 cup containers with lid, (1) 8 cup container with lid and removable non-toxic ice pack that fits into the lid or suspends in middle of container

Containers are BPA free, dishwasher safe and microwave safe



---
Fit & Fresh Men's Classic Roll Top Insulated Lunch Bag
OK, remember how above I was making fun of the whole brown paper bag thingy? Well, here's a take on the classic, except when this one gets wet, it doesn't fall apart. Absolutely perfect lunch bag for the office! Plenty of room for a large sandwich, snacks, drink and Ice pack. Insulated to keep that food fresh.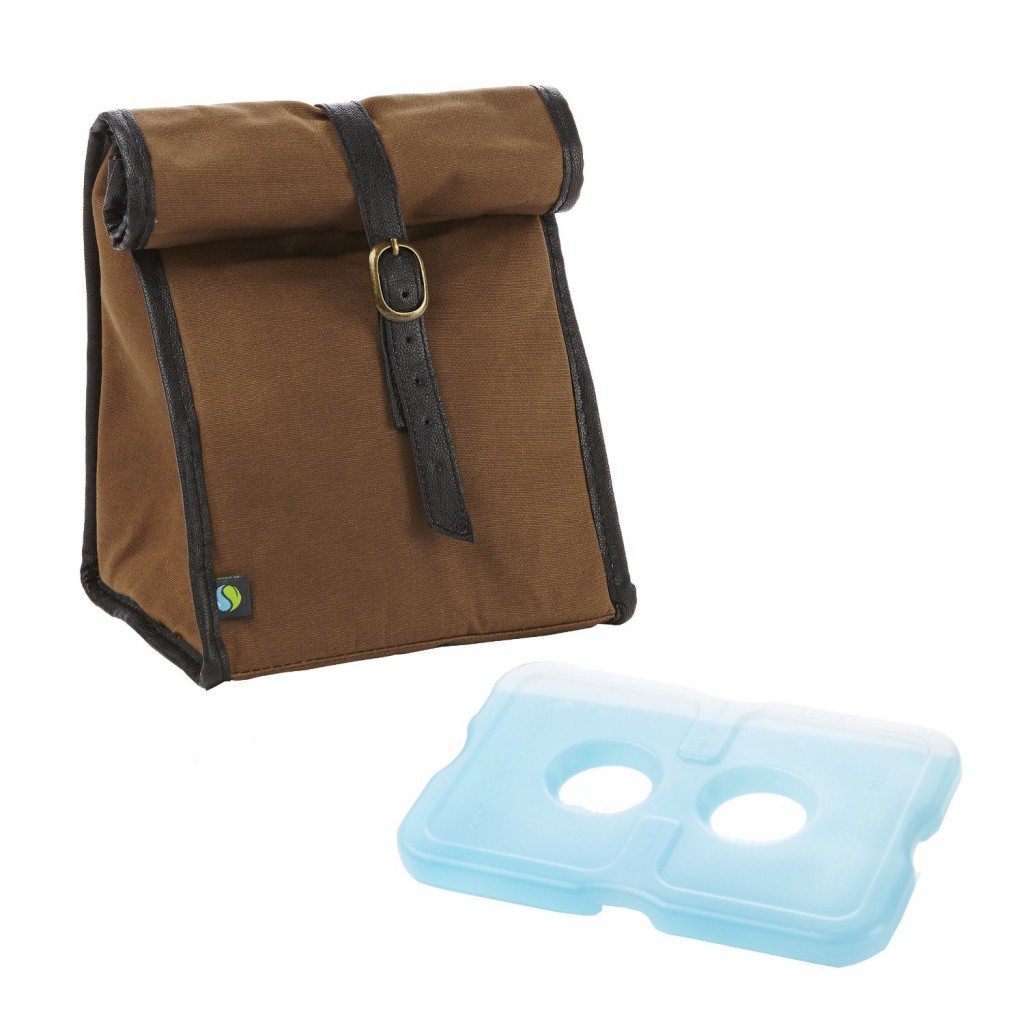 Men's, reusable, insulated lunch tote with adjustable buckle closure and non-toxic ice pack

Waxed canvas body and faux leather trim and strap

Interior mesh pocket perfect for ice packs, utensils, or keys

Extra thick insulation keeps food cool and fresh and grey PEVA lining is easy to clean and PVC free

Bag measures 7.5″ x 9.5″ x 5.5″ (13″ tall when unrolled, 9-10″ tall when rolled)



The Silver Back Extra Large Lunch Bag
Don't let the image deceive you. This bag is BIG. This can hold any guys lunch and then some. It's a discrete looking bag that's insulated to keep your foods warm or cold and it's easy to clean. No worries about looking like you're carrying around a bulky lunch box, instead, it's a simple over the shoulder bag or you can carry it by the handles. Perfect for carrying around the city!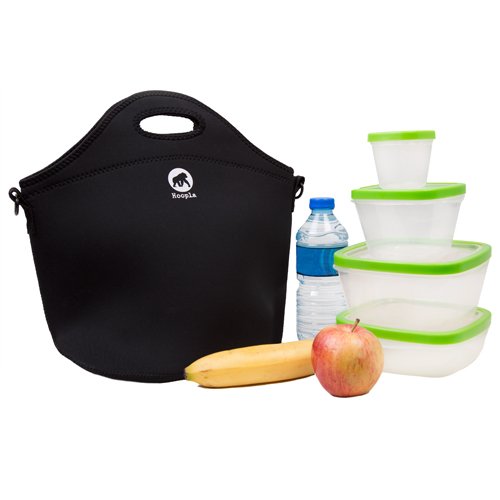 INSULATING – WARM OR COOL

BUILT TO LAST

STYLISH AND DISCREET

EASY TO STORE & CLEAN

SUPER SIZED



Well there you have it! Four great finds in the search for the perfect lunch box for men! Are you a man? Let us know what kind of lunch box you're using! Have a man in your life? Think he'd go for any of the above choises? Share your comments and questions below! We'd love to hear from you!
Looking for a lunch bag for the lady in your life?
Check out our Vera Bradley Lunch Bunch Review!