Do you want to start your day off with a buzz? Nothing beats a fresh juice and when you compare the cost of buying one at your local juice joint to buying a juicing blender, there's just no comparison. In this article, we're going to take a look at the best Vitamix blender for juicing!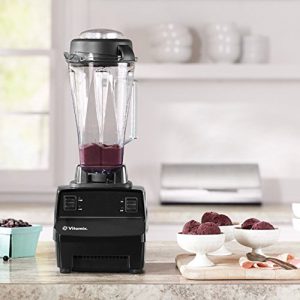 There are some great benefits to buying a blender and making your own fresh juices. Most importantly, you know EXACTLY what's going into your juices! You know how fresh it is, you know how clean it is. You know all this because you're buying the fruits and vegetables and making sure they're clean. You have no idea what types of bacteria are collecting on fruits behind a juice counter. You could also be paying a premium price for 3 or 4-day old fruit and vegetables. Which brings us to the next great benefit.
Cost! You can pay anywhere fro $6 and up for a juice at your local juicing joint. You know how many juices you can make yourself for $6? The cost for a simple, yet reliable blender will run you a few hundred dollars and will last you a lifetime. You'll be spending a few hundred dollars a month if you keep buying your juices!OK,
OK, so now that we've covered a couple basic reasons owning a blender outways buying your juice every day, let's get right into looking at the best blender from Vitamix to use for juicing.
Best Vitamix Blender For Juicing
OUR PICK
Vitamix 1782 TurboBlend, 2-Speed
The Vitamix 1782 is perfect for juicing. It far outperforms other blenders in this price range and is as durable as they come. Now, remember this isn't a juicer, it's a blender which means there's an extra step needed if you don't want the pulp. Cheesecloth! This machine does a lot more than just juice!
You can create smoothies, juices, hot soups, and frozen desserts all with this one machine! It has the ability to chop, cream, blend, heat, chum and so much more.
Features:
Commercial-grade, powerful, 2-peak horsepower motor that propels blades up to 240 mph to blend the toughest ingredients
Easy-to-use equipment paired with extreme versatility
The ability to chop, cream, blend, heat, grind, churn and more, with a single machine
Quick and easy self-cleaning with a drop of dish soap and warm water; just run on High for 30 seconds
5-year full warranty
Ongoing recipe ideas and community support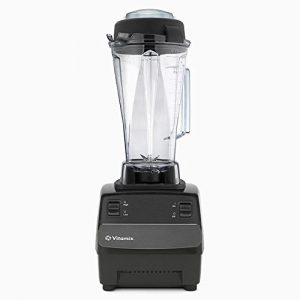 The container is a full 64oz which is perfect for making family meals or serving guests. A tamper is included and fits perfectly inside the container. Useful when blending things like peanut butter or frozen desserts. The lid is spill-proof and has a removable plug so you can add ingredients as its blending.
It's a simple 2-speed model, making it easy to use and less clutter of useless buttons you're not looking for. Along with an on/off switch, both which are large and easy to push. The cord wraps around under the machine, keeping it out of the way when not in use. Beautiful!
This unit also comes with a recipe book that will get you started. Check out some juice recipes from Vitamix to get your mouth watering 🙂
We hope this article has helped make the process of looking for the right blender, easier for you. We feel the 1782 Turboblend is the best Vitamix blender for juicing along with being able to do so much more. If you'd like more information or are considering making a purchase, we found the best price, here on Amazon.