Look out! Are you a banana nut bread fan? Holy cow, do we have the ultimate recipe in store for you today! One bite of this, and you'll want a piece for breakfast, lunch, and dinner. Oh, and lets not forget about dessert! As far as work is involved for this type of dish, we found this to be a quick and easy banana nut bread recipe. Go ahead and give it a try. Then come back here and let us know what you think, in the comment section below!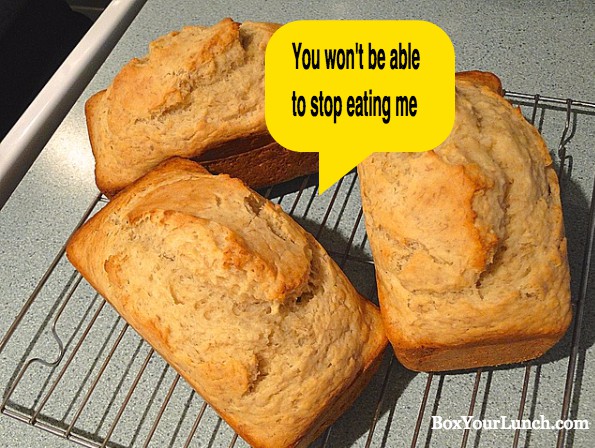 Quick and Easy Banana Nut Bread Recipe
Here's what you'll need:
1 cup All Purpose Flour

1 Teaspoon Baking Soda

Half Teaspoon of Salt

Half cup of Butter (margarine, shortening, etc, may be used)

1 cup Brown Sugar

2 Beaten Eggs

1 cup Mashed Over Ripe Bananas

Half cup Chopped Walnuts or Pecans

Half teaspoon vanilla (optional)
(Similar recipes can also be found on allrecipes.com and food.com)
---
Preheat your oven to 350°

Grease and flour a

9×5 inch loaf pan

In a large bowl, sift together the four, salt and baking soda.

In a separate bowl mix the butter and sugar until its a creamy consistency. Now add the bananas, eggs, (optional vanilla) and walnuts to your butter/sugar mixture and mix until well blended.

Now take the wet mixture and add it to your larger bowl of dry mix. Blend the two together until well mixed.

Now simply add the mixture to your loaf pan and set it in the oven.

Bake for 60 -70 minutes until a knife comes out clean when placed in the crown of the loaf.

Let the loaf cool in the pan for 5-7 minutes and then flip it onto a cooling rack.

Once cooled, wrap it in foil and place it in the refrigerator




---
That's all there is to it! Once you get one bite of this bad boy, it's going to make you want to bake one every Sunday, so you have some left for the week. (If it will last that long).
We found out that it is very important to wrap it in foil and place it into your refrigerator in order to keep it moist and fresh. That's key!
---
Add Another Layer of Amazingness to your Banana Nut Bread 
If you'd like to take your banana nut bread to another level, this will take just a bit more work, but you may find it worth it. Let's add a sweet topping to that already delicious loaf, shall we?
Cream Cheese Frosting:
4 oz Cream Cheese at room temperature

1/4 cup Butter at room temperature

1 cup powdered sugar

1 tablespoon milk

Chopped walnuts or pecans (optional)
Beat the softened cream cheese and butter together on with your

mixer

 on medium speed for 2-3 minutes until combined and makes a smooth creamy consistency.

Now add the powdered sugar and continue to beat until the mixture becomes thickened.

Add the milk and continue to beat on medium speed for another 2 minutes. At this point, you can add more powdered sugar until desired thickness is reached. 
Once the banana bread has cooled off, you can spread this all over the top. There may be some frosting leftover depending how thick you layer it on top. Now add the nuts if desired. You're done!
---
We really hope you love this recipe as much as we do. As a side note, you can replace the brown sugar with white sugar for the banana bread if you don't have any on hand. We just think it tastes better with brown. But either way, it's a great loaf!
Please take a moment to comment and let us know what you think after you've made this. And we'd love if you'd show some love by sharing this post with your favorite social networks! And be sure to enjoy this quick and easy banana nut bread recipe, soon! 🙂
Check out our other post, where you can learn
how to keep banana's ripe for over a week!